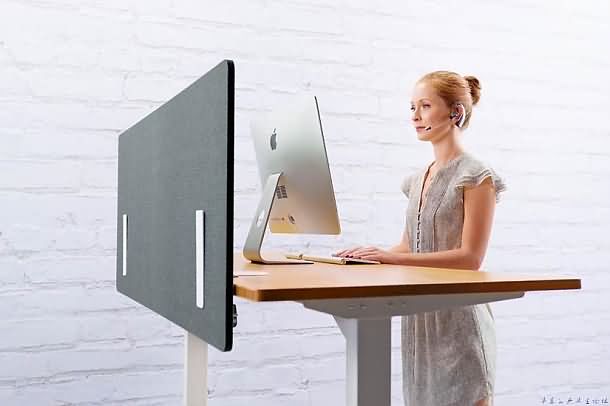 A study founddesks that allow workers to sit as well as stand while using a computer apparently improve job performance and psychological health. Photo by Uplift Desk.
根据一项试验,使用电脑的办公桌不仅允许职员站立,也允许职员坐着,这样明显改善了工作表现和心理健康。
长时间的久坐行为与患2型糖尿病、心脏病和一些癌症的风险增加有关。
莱斯特皇家医院、莱斯特总医院和格伦菲尔德医院等大学医院的146名办公室工作人员被招募参加这项研究,其中77人使用静坐式办公桌,69人在2015年至2016年6月期间不使用静坐式办公桌,随访到2017年。参加者的平均年龄为41岁,女性为80%,欧洲白人为78%。
除了在办公室的数据外,还记录每天的体力活动水平、情绪和生活质量的问卷调查。
被调查者,总的坐姿时间为每天9.7小时。与对照组相比,3个月时每天坐50.62分钟,6个月时每天64.40分钟,12个月时每天82.39分钟。步行时间和体力活动保持不变。
研究表明,相关的轻锻炼能立即增强记忆力。研究人员说,工作表现、工作投入、职业疲劳、生病时工作、日常焦虑和生活质量都有所提高,但在工作满意度、认知功能和疾病缺勤率方面没有显著差异。
作者希望未来的研究能更长远地研究站着代替坐着对健康的好处,以及如何更好地促进运动。
Oct. 11 (UPI) -- Desks that allow workers to sit as well as stand while using a computer apparently improve job performance and psychological health, according to a trial.
Researchers in Britain and Australia found the desks reduced sitting in the office by more than one hour a day. The findings were published Thursday in The BMJ.
High levels of sedentary behavior have been associated with an increased risk of type 2 diabetes, heart disease and some cancers.
The study was part of Britain's Stand More AT Work, or SMArT Work, a comprehensive behavior-change intervention developed to encourage more frequent standing and less sitting at work. A website includes the health risks of prolonged sitting, as well as information on how best to use a height-adjustable desk.
RELATED Standing desks may not be as good for health as thought
"Office workers are one of the most sedentary populations, spending 70-85 percent of time at work sitting," the researchers wrote.
But previous studies were deemed low quality, according to the researchers.
Over 12 months, 146 office workers based at the University Hospitals -- Leicester Royal Infirmary, Leicester General Hospital and Glenfield Hospital -- were recruited for the study, 77 using sit-stand desks and 69 not utilizing them between 2015 and June 2016, with followup through 2017. The average age of the participants was 41, with 80 percent women and 78 percent white European ethnicity.
RELATED Vacation bliss fades fast for stressed-out workers in the U.S.
Besides measuring data while in the office, daily physical activity levels and answers to questions about work, mood and quality of life were recorded.
When the study started, the overall sitting time was 9.7 hours per day.
Compared with the control group, the sitting time was lower by 50.62 minutes per day at 3 months, 64.40 minutes per day at 6 months and 82.39 minutes per day at 12 months compared with the control group. Stepping time and physical activity remained unchanged.
RELATED Light exercise can immediately boost memory, study says
The researchers said there were improvements in job performance, work engagement, occupational fatigue, working while sick, daily anxiety and quality of life -- but not significant differences in job satisfaction, cognitive function and sickness absenteeism.
The authors want future research on longer-term health benefits of displacing sitting with standing and how best to promote movement.
Dr. Cindy Gray at the University of Glasgow in an accompanying editorial wrote she sees potential health gains of replacing sitting with standing, but she wonders about potential health gains.
"Many interventions that simply replace sitting with standing have shown clinically negligible effects on cardiovascular risk biomarkers, whereas breaking up sitting with periods of even light physical activity appears to confer metabolic benefits," she wrote.
"Available evidence suggests that the individual and public health benefits conferred by interventions that focus mainly on sedentary behavior -- such as SMArT Work -- may be limited by their failure to increase walking or other forms of physical activity."
In addition, she questioned the transferability beyond the National Health Service and its suitability for other types of employees, including shift workers.